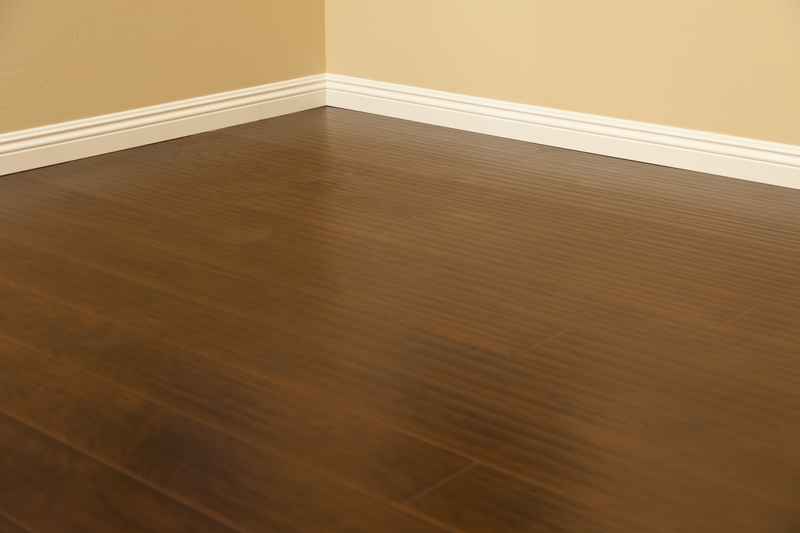 The choice of an ideal flooring option for your home, office or commercial space can be an overwhelming experience. And, this is mainly because of the wide range of alternatives available in the market today. However, you do not have to go through all the hassles of researching about each and every flooring option in the market. You only need to know a few of the best flooring alternatives.
Laminate flooring is one of the most sought after types of flooring for both residential and commercial spaces. Not only is laminate flooring a more cost-effective flooring option, but, also resilient, safe, comfortable and beautiful. Besides, laminate flooring also comes in varying patterns, styles, colours and dimensions. This ensures that you are able to easily find the most suitable laminate flooring for your spaces and budget.
Laminate is made from layers of wood, pressed together to give a strong and stable material. The layered construction of laminate is engineered to effectively withstand moisture and scratches, which helps with maintaining the floors in proper condition over time. If installed correctly and accorded proper care, laminate flooring will hardly show signs of warping, scratches or sub-surface damage.
At Flooring Singapore, we offer the best selection of quality laminate flooring for homes, offices and business spaces. We work with leading flooring suppliers to always deliver the ultimate laminate flooring solutions that truly meet the needs of every client.
Our Laminate Flooring Portfolio
If you are looking for the right flooring option for high moisture sections like foyers then bamboo laminate flooring is yours for the taking. However, bamboo laminate also has a unique stylish look that can still induce charm in other living and work spaces too including, offices. Bamboo is a great choice for inducing a transitional feel into rooms and walkways.
If you are keen on interior decor trends, you might have noticed that furnishings with the feel of natural stones and wood are making their way back. Without digging deeper into the pocket, you can now easily bring this feel to your spaces by installing quality laminate wood flooring. Laminate wood flooring is also a versatile choice that effortlessly stuns in every decor.
Just like the timeless beauty of real walnut, walnut laminate flooring is crafted with a distinctive twist of style that adds a sense of luxury and warmth to just any space. Besides, walnut laminate flooring is also resilient, sure to keep your home, office and commercial spaces exquisite and comfortable for many years to come.
One of the reasons why most people prefer black laminate flooring is because of its versatility. Black is a colour that seamlessly works in almost every decor. Coupled with the durable construction of black laminate flooring, it's an option that you will truly love. In fact, you can still obtain the flooring in unique shades and patterns to match your space.
Unlike other types of laminate flooring, laminated flooring comprises of various accents, pieced together to create floors with a unique aesthetic finish. As a result of this they provide robust design options that emulate stones, wood, tiles and other luxurious interior decor accents. Besides, the laminated flooring is also quite resilient.
Considered one of the world's most innovative flooring products, waterproof laminate flooring is the perfect option for areas prone to spills like, kitchens, laundry rooms and bathrooms. Waterproof laminate flooring offers the best protection against moisture penetration into living and work environments.
Cherry laminate flooring is crafted to give your spaces a kind of look and feel almost similar to that of cherry hardwood. This flooring option is not only highly resilient but, also easy to install and more affordable that natural cherry hardwood. You can also get cherry laminate flooring in varying colours, patterns and designs for creating unique spaces.
As the name suggests, this type of laminate flooring is engineered to provide the exquisite appeal of cherry hardwood without leaving a hole in your pockets. The earthly tones and light palettes of maple laminate flooring are an incredible asset for creating contrast in the decor of your home.
If you are looking for a luxurious flooring option without extravagant accents then, white laminate flooring is the right fit. The colour white creates a peaceful and cool environment that will no doubt elevate your spaces. You can also opt for white laminate flooring in varying shades of powdered white, sparkling white and light grey.
Glueless laminate flooring are among the safest flooring alternatives in the market. Unlike most flooring options, glueless laminate flooring does not require adhesives or nails to install. Instead, it is engineered with a locking mechanism, which you can easily set up and install even without the need for hiring professional flooring installation services.
Tarkett laminate flooring is a Swedish product but with a universal appeal. Available in choices of modern, contemporary, traditional and abstract designs, Tarkett laminate flooring is a realistic flooring option that is also quite safe and eco-friendly. Besides, it is also maintenance free and durable enough to keep your home looking great for longer.
Get the Best Quotes for Laminate Flooring Singapore
Despite the quality, affordability and convenience of laminate flooring, finding the most suitable pieces for your spaces and budget can still be challenging, especially if you do not know where to look. The right place to begin your search for the best laminate flooring in Singapore is Singapore Flooring.
We work in partnership with trusted flooring suppliers to make sure that you are always able to get the best laminate flooring solutions to meet your needs. In order to achieve this, we provide our clients with up to three quotation proposals for every project free of charge. The quotations are meant to assist you in making an informed choice and, offered at no cost.
Get in touch with us today to easily get the best quotes for laminate flooring Singapore.
HDB Registered Contractor
License Number: HB-09-5474D