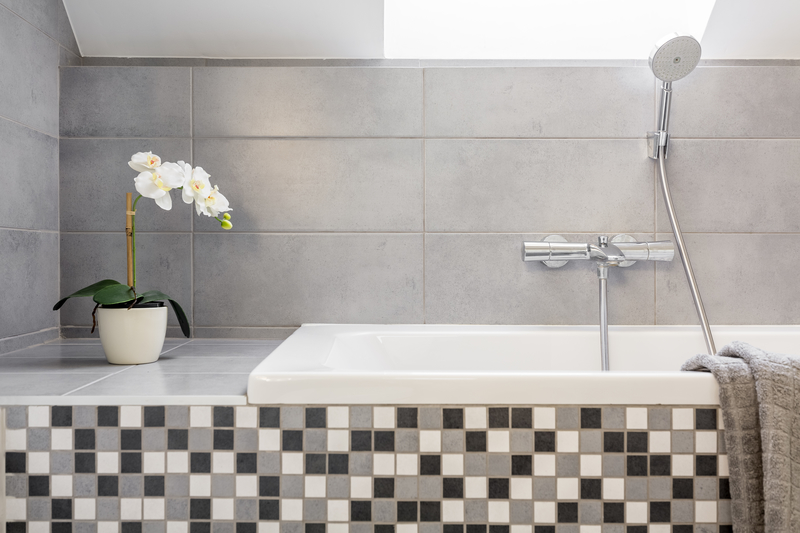 When looking for a way to enhance the feel and functionality of your bathroom, bathroom tiles should always be in your list. These are perfect flooring tiles option for bathrooms that will not only enable you to express a twist of beauty and style but, also maintain proper hygiene therein. Apart from just the floors, bathroom tiles can also be used as wall finishes, complementing the décor of the entire space.
Owing to the unique settings found in many residential and work spaces today, bathroom tiles are offered in a wide range of styles, colors and sizes that you can always choose from based on your needs and the orientation of your spaces. These tiles provide both aesthetic and functional benefits that will truly elevate the appeal and usefulness of your bathrooms. In fact, regardless of how they are used, bathroom tiles always stand out.
With bathroom tiles, you always have a variety of alternatives on how to design your bathroom. Whether you are constructing a new bathroom or remodeling an existing one, bathroom tiles are always an incredible option for giving the floors and walls an iconic twist of style.
Distinctive Merits of Bathroom Tiles
Durable construction
Bathroom tiles are engineered with a lot of emphasis on longevity. Provided they are installed right, these tiles can last a very long time without putting you through expensive repair and maintenance works. Bathroom tiles are also highly water resistant and, this is one of the main reasons why they are the perfect choice for bathrooms that are often exposed to humid conditions.
Despite their smooth surfaces, bathroom tiles are very strong to effectively withstand common wear and tear. Even in very humid conditions, bathroom tiles do not warp like wood. The thickness of bathroom tiles usually vary from one brand to another but, all are generally fabricated with better density that ensures they do not easily break or chip over time.
Numerous design options
The myriad designs of bathroom tiles are among the main reasons why they are preferred by many people. The design options are unlimited and, you can always get the perfect fit for the specific style and décor of your bathroom. Whether you need to exhibit a modern mosaic, Spanish, Italian or timeless style, bathroom tiles are available in diverse styles for every décor and theme.
When shopping for bathroom tiles, you can also choose them according to colors that range from bold, neutral to mild shades. To create a uniform design in your home, you can opt for bathroom tile styles and colors that complement the other accents and furnishings therein. In fact, you can even go for reflective bathroom tiles with a more elegant and luxurious appeal. Besides, you can even get bathroom tiles that emulate the looks of stones and woods.
To ensure that you never run of options in designing your bathroom, the tiles are also enhanced using different kinds of finishes and textures. The main finishes include matte and gloss while textures range from broad effects to smooth. Considering bathroom tiles are also available in varying sizes, you are always able to get just the right fit for your bathroom.
Easy to clean and maintain
Another aspect that makes bathroom tiles very hard to ignore is their ease of cleaning and maintenance. Unlike other flooring alternatives that will put you through so much stress when it comes to maintenance, bathroom tiles can be easily cleaned the same way as ordinary floors. Washing with a disinfectant is always just enough to keep your bathroom clean and hygienic. Cleaning does not require any special products and, can be easily performed using common home cleaning products.
While the main application of bathroom tiles is dressing up the floors and walls of bathrooms, it should be noted that the tiles come in numerous classes that can also be used in other areas. Generally, class 1 tiles are the best for bathrooms. Class 2 tiles are recommended for changing rooms, class 3 tiles for bathrooms and bedrooms, class 4 are ideal for foyers while class 5 tiles work best in public spaces like, hallways.
Get the Best Bathroom Tiles Quotes Singapore
To easily get the best quotes for bathroom tiles in Singapore, talk to us!
HDB Registered Contractor
License Number: HB-09-5474D