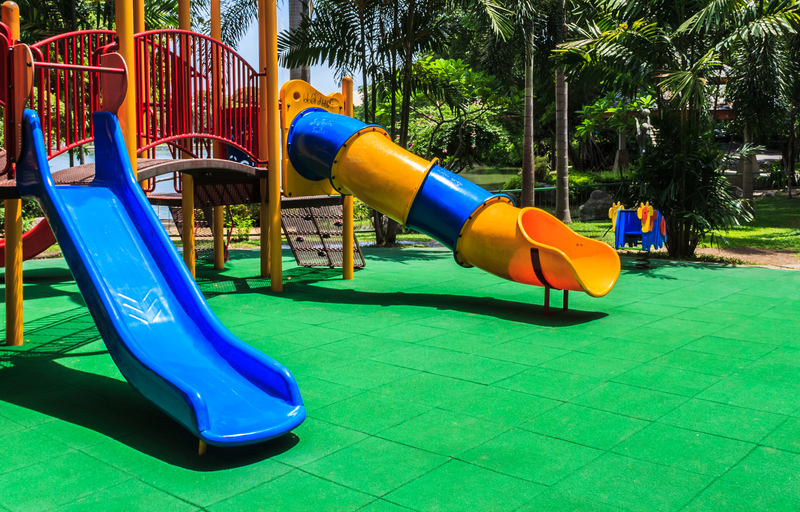 Most people usually associate rubber tiles with indoor applications only. However, the truth is; rubber tiles have unique properties that also make them a great flooring option for outdoor settings. The outdoor spaces like, patios, gazebos, decks and playgrounds provide a unique experience of the natural environment. For greater safety and comfort in your outdoor space, installing outdoor rubber tiles is always the best option to go for.
While they share a wide range of qualities with rubber tiles for indoor spaces, outdoor rubber tiles are crafted with outstanding features to deliver the best performance in harsh environments. Whether you just need a flooring option for small areas in the backyard or the entire patio, outdoor rubber tiles will guarantee enhanced safety, comfort and beauty to make your outdoor spaces more fulfilling to spend time in.
Owing to the abrasive nature of the outdoor environments, outdoor rubber tiles are engineered to effectively protect the existing surfaces from damage. As a result of this, having them can also go a long way in saving you from the huge costs of frequent flooring maintenance and replacements. While they are not the cheapest type of flooring in the market, outdoor rubber tiles are more cost-effective than most conventional flooring options.
Main Properties of Outdoor Rubber Tiles
Better resilience
Rubber is a very durable and long lasting material that will guarantee enhanced safety and comfort in your outdoor spaces for many years to come. Outdoor rubber tiles are engineered with proper dimensional stability and a tough surface that can effectively withstand intense pressure from frequent movements, UV rays, rain and other harsh conditions.
Considering rubber is naturally resistant to water and moisture, it always provides the best traction in wet environments. As a result of this, they can be quite useful in protecting the patios or decks from damage by sunlight and moisture. Even if you have heavy equipment like furniture in your patio, outdoor rubber tiles can always stand up well to the pressure.
Slip resistant
Whether you like to just sit and relax or play around in the garden or backyard, installing outdoor rubber tiles will ensure that you are safe from slip and fall accidents. Even whenever it rains, rubber tiles will never lose their traction. Even if one falls on rubber tiles, the surfaces have proper frictional grip and cushioning to prevent injuries.
Unique aesthetics
Besides just the creation of functional outdoor settings, outdoor rubber tiles also provide unique aesthetic value. Outdoor rubber tiles are available in a wide range of designs and colors that you can also select based on the kind of look or feel that you intend to express in your outdoor space. The designs are created using intricate patterns and styles that seamlessly blends in with diverse ambiences.
Outdoor rubber tiles designs are enhanced with unique motifs and patterns that mimic grass, stones, hardwoods and other common but, luxurious flooring options. Besides, the tiles are also offered in numerous color options to enable you create an inviting and fun outdoor space.  Whether you are looking to express a traditional, modern, rustic or abstract décor on your outdoor space, outdoor rubber tiles offer diverse alternatives to bring out the best.
You can either opt for outdoor rubber tiles with a uniform design and color or mix different pieces to create a more fulfilling ambience.
Eco-friendly
Outdoor rubber tiles are made from natural and recycled rubber materials that have no environmental impacts. Even if exposed to UV rays or moisture, rubber tiles do not discharge any harmful substances. Apart from the environment, outdoor rubber tiles do not have any potential effects on humans and pets, making them quite safe.
Easy installation
The installation of outdoor rubber tiles is very easy. In fact, installing outdoor rubber tiles is usually considered a DIY project that you can easily perform without necessarily hiring a professional. The tiles are engineered with interlocking systems that makes it easier to join individual pieces, creating a larger platform for outdoor activities.
Get the Best Quotes for Outdoor Rubber Tiles Singapore
Now that you know the great benefits of outdoor rubber tiles, simply contact Flooring Singapore to get the best outdoor rubber tiles quotes Singapore.
HDB Registered Contractor
License Number: HB-09-5474D