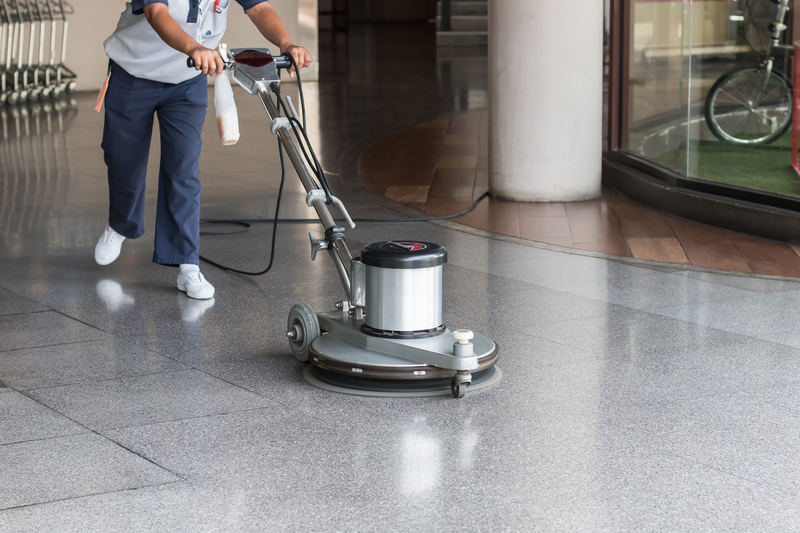 Granite is an incredible floor covering that contributes a lasting touch of elegance and luxury in both living and work spaces. Since granite tiles are made from natural stones, their resilience is undoubted. Granite flooring usually has better resistance to stains, scratches, indentions and traffic marks. Besides, they also possess outstanding hypoallergenic properties that cushion them against damage from mold and mildew as well as insects.
Despite the resilience of granite flooring, their qualities also derail with time just like other types of flooring. Generally, sweeping and mopping are the main techniques recommended for maintaining granite floors. These procedures are useful in removing dirt, loose stains and germs that may find their way onto the floors. However, cleaning alone is not usually enough to guarantee a lasting shine and the resilience of granite floors.
Polishing is one of the most critical maintenance procedures for granite floors. Proper and timely polishing of granite floors will not only revive their colors and patterns but, also significantly enhance their resistance to various forms of wear and tear. Even if the floors look so old and won out, polishing can effectively bring back their luster and make them appear new again.
Common Granite Floor Polishing Options and Methods
There are various approaches that can be pursued in granite floor polishing. The procedure can be performed using either wet or dry materials. While there are still discussions between professionals on the best polishing methods for granite floors, both are effective. Nevertheless, it is important that you also know about the basics of each technique.
Granite polishing powder
This is one of the best granite polishing products, which is also known as stone polishing compound. Powder provides an easier and quicker way to giving granite floors a new gleam. It can effectively eliminate stains and minor stains from the surfaces. In case you are using dry powder, the polishing should be done using a buff pad to steadily rub it all over the surfaces. For wet powder polishing, the best tool to use is a muslin wheel.
During the selection of a granite compound to apply, it is important to consider the primary colors of the flooring materials. For light colors, there are light compounds. Granite floors in darker shades should be polished with stipulated compounds for dark stones. This ensures that the colors are not lost or altered during the process of polishing.  Besides, it is also important to carefully read and follow the instructions of using the products.
Granite polishing cream
Although granite polishing cream is usually used on countertops, it can still work on floors. Granite polishing cream contains light abrasives, which are more suitable for the rich stones used in making premium finished granite. Mainly used by professionals, granite polishing cream is recommended for both natural granite and engineered stones. Unlike granite polishing powder, this product is ideal for both light and dark colored granite surfaces. It can be applied using a hog's hair pad to bring back the factory shine of granite floors.
Generally, all the above materials for polishing granite come with instructions for use that should always be followed when performing the procedure. Since most of the work bends more towards labor and, not the polishing products, most people usually consider it a DIY project. By simply using the right product and polishing approaches, you can easily achieve the similar results with those of a professional. Performing the procedures yourself can offer greater savings in terms of labor costs.
Post Granite Floor Polishing Procedures
After the proper application of fresh polish on your granite floors, they should also be effectively sealed. This will help in preserving their luster while also improving protection against moisture and stains. Most people usually use penetrating sealants that are considered the best for granite. Before the application of the sealants, it is required that the surfaces are properly cleaned and dried.
Since there are various sealants in the market, the supplier of your granite floors should tell you the best products to use for outstanding results. Besides, you should also be very keen to check the instructions for using the sealer beforehand to make sure that the procedure is conducted effectively.
Get the Best Quotes for Granite Floor Polishing Singapore
At Flooring Singapore, we partner with leading floor maintenance companies to always deliver quality workmanship. Talk to us today for the best granite floor polishing quotes Singapore.
HDB Registered Contractor
License Number: HB-09-5474D