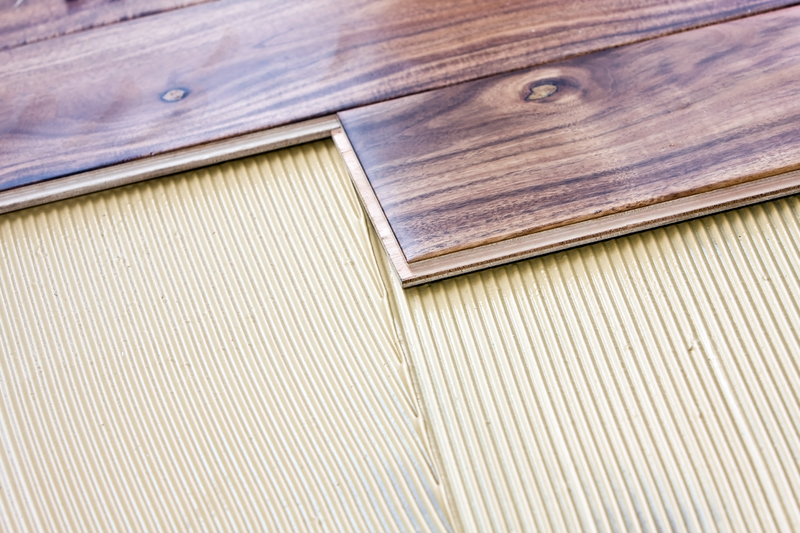 Engineered wood flooring is among the most sought after wood flooring alternatives today. Recommended for both residential and commercial spaces, engineered wood offers the same functional and practical benefits of solid hardwood at a fairly cheaper price. If you need to experience the outstanding beauty and resilience of solid wood without spending more, engineered wood flooring is the best option to go for.
Benefits of Engineered Wood Flooring
Genuine looks
Although it is fabricated from veneers, engineered wood flooring has the same looks as solid wood. In fact, you can hardly distinguish it from real wood. The careful construction of engineered wood gives it outstanding beauty, warmth and lifetime value likened to that of solid hardwoods. Modern engineered wood flooring is available in numerous grains of woods that emulate different types of wood. Regardless of where it is installed, engineered wood flooring always stands apart, creating an iconic focal attraction.
Stands up well to contraction and expansion
Compared to solid wood that easily changes shape and appearance when exposed to varying temperatures and conditions, engineered wood is quite sustainable. This means, engineered wood flooring can always work great in areas where it is feared that solid wood may experience damage like, bathrooms, kitchens and laundry rooms. Engineered wood is also quite stable, which enables it to deliver outstanding performance in just any space at home, in the office or commercial space.
Tough and long lasting
Engineered wood flooring undergoes a detailed construction process that results into greater resilience. The flooring is made from several layers of veneer that are tightly bonded together and enhanced with a strong protective layer on the surfaces. As a result, engineered wood flooring can easily resist common forms of damage like abrasion and scratches. Besides, it hardly wears out even in areas with high foot traffic and heavy furniture.
Various styles and finishes to choose from
While engineered wood flooring has similar looks to solid wood, it is offered in different styles and finishes that can easily get along with just any décor. The main styles include parquet and chevron looks, which can seamlessly merge with antique, contemporary and rustic themes. Besides the lamella surfaces, oiled and lacquer finishes, engineered wood can also be obtained in other unique finishes and grades.
Engineered wood flooring can also be obtained in a wide range of colors including, warm, neutral and soft palettes. Owing to the availability of diverse styles, finishes and grades, there is no doubt you can always get the most suitable engineered wood flooring that complements your style and budget.
Easy sanding and re-finishing
Unlike solid wood that requires complex maintenance procedures; engineered wood flooring can be improved by basic sanding and finishing whenever they begin to wear out. While the frequency of sanding engineered wood floors mainly depends on the thickness of the top layers, it helps with reviving the appearance. Sanding can effectively eliminate stains and unwanted marks, giving the floors a new attractive appearance.
After sanding, the floor can also be re-finished to remove elements of ageing and protect the surfaces. The easy sanding and re-finishing of engineered wood flooring enables you to alter the looks of your floors at will. Besides, it also gives you the freedom of creating just any design or style that you need in every room in your home, office or business space.
Flexible dimensions
Unlike solid woods that are limited to only standard dimensions, the manufacturing of engineered wood floors makes it easier to generate just any size or shape that you may need. Besides the standard sizes, engineered wood flooring is offered in several abstract dimensions that can still work perfectly in irregular spaces. In fact, you can even get extra large boards that can easily cover spacious room with very few joints.
Easy installation
Engineered wood flooring support both professional and DIY installations. For those who wish to undertake the installation by themselves, there are engineered wood floors with click systems that you can easily and quickly put together.
Get the Best Quotes for Engineered Wood Flooring Singapore
Looking to buy engineered wood flooring? Look no further than Flooring Singapore.  Simply contact us for the best engineered wood flooring quotes Singapore.
HDB Registered Contractor
License Number: HB-09-5474D