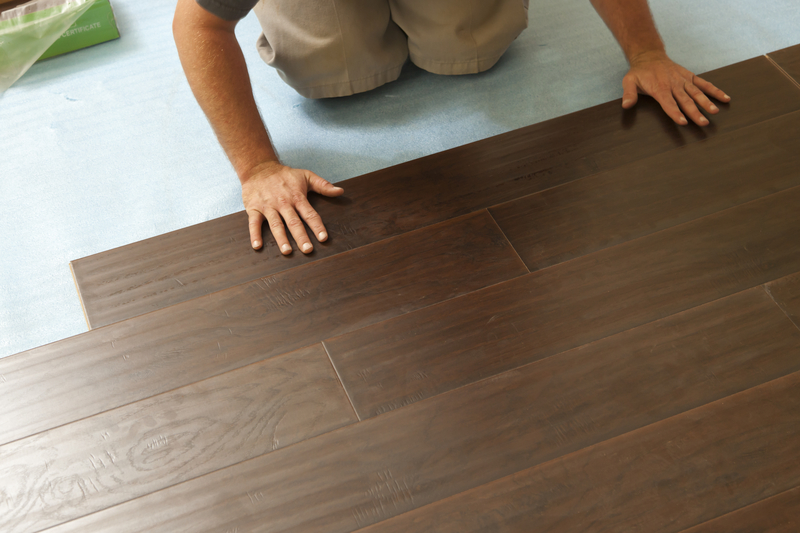 Wood is one of the most coveted flooring options that have been around for centuries. Wood flooring is always a great way to enhance a unique sense of style and functionality in your home as well as office and business spaces. Today, there are numerous options that you can go for when seeking wood flooring, which even makes it a more versatile alternative. If you are thinking of resale, installing wood flooring is one of the best ways to improve the value of the property.
Generally, the most popular types of wood flooring are solid wood and engineered wood. While most people consider solid wood flooring an expensive option, it is always worth the extra costs. In fact, solid wood is one of the most resilient with iconic stylish twists that will no doubt elevate the appeal of every space where they are used. Engineered wood is made from veneers and, more affordable than solid wood. However, it still provides the unique looks and feel of solid wood.
There are lots of benefits that you can achieve from wood flooring including, easy installation, enhanced durability, low maintenance, variety of aesthetic qualities, and healthy air quality among others. When planning to install wood flooring in your home, office or business space, there are lots of varieties to choose from.
Main Types of Wood Flooring
Bamboo is a natural material that exhibits most of the properties of hardwood. Although it is produced from a type of grass, bamboo flooring is durable and ecologically friendly with outstanding water resistance properties. Besides, it is also very easy to maintain, which makes it a great flooring option for both living and work environments. Bamboo flooring can also be obtained in numerous styles, shades and dimensions for a wide range of applications both at home, in the office as well as commercial spaces.
Cork flooring is also a natural material obtained from the bark of cork oak trees. Cork has been in use for centuries, mainly in construction projects around the world. Most people prefer cork flooring because of its durability and unique beauty. Besides, this materials is also naturally resistant to mold, mildew and termites, which makes it a healthy flooring option for both living and work spaces. With cork flooring, you can always be sure of improved air quality in all indoor environments where it is installed.
When looking to experience the unique benefits of solid wood in your home or office without spending huge sums of money, engineered wood flooring is the best option to always go for. In fact, engineered wood flooring offers the same aesthetics of solid wood that can effectively set the feel and looks of your spaces apart for far much less. While it is not as durable as solid wood, engineered wood flooring is long lasting and, comes in numerous style options that work great with a wide range of décor and themes.
Oak flooring is a favorite of many people today. The fact that oak is a hardwood means it does not easily wear out. In fact, even a 200 year old oak wood can still work great magic in your home, looking just like it was harvested a few days ago. Just like wine, oak improves its quality as it ages, making it an excellent flooring option. Besides, oak has remarkable resistance to staining, moisture and insects infestation. Coupled with its attractive grains, oak flooring is a masterpiece that will truly elevate your spaces.
Solid wood flooring is undoubtedly one of the best for those who need highly durable floors with a timeless appeal.  Besides its outstanding strength, wood is also available in numerous iconic grains that can complement just any décor. Solid wood flooring can effectively stand up to just any kind of traffic. Besides, the flooring comes in pieces that are quite easy to install. Solid wood flooring is renewable and has no environmental impacts, also making it a healthy and efficient option for both living and work areas.
Teak flooring is also a highly durable and beautiful floor covering with natural resistance to decay. In fact, teak is one of the best materials to go for when looking to express a distinctive sense of luxury in your spaces. Teak flooring is available in rich gold, reddish brown and other shades that offer a unique twist of style and beauty in every space. Besides, the material contains natural oils that keeps the flooring waterproof and in pristine condition for many years. Teak flooring also has a smooth appearance that enhances greater comfort.
Whether you are constructing new floors or remodeling existing ones, timber flooring is one of the best alternatives to consider. Timber is not only a highly resilient natural material but, also very easy to clean and beautiful. In fact, timber flooring can last for up to 100 years with very little maintenance. Besides, the material is offered in a wide range of colors, styles and dimensions for various applications in homes, offices and business spaces. Timber flooring does not attract dirt or allergens, which also makes it quite healthy.
Get the Best Quotes for Wood Flooring Singapore
Now that you know the best kinds of wood flooring varieties to select for your home, office and commercial space, make the bold step ahead and request for a free quote. At Flooring Singapore, we are the trusted partner in wood flooring that you can always count on to deliver the best wood flooring quotes Singapore.
Our company works in partnership with leading suppliers of wood flooring in Singapore to always deliver top notch quality flooring solutions with the best quotes. Regardless of the type of wood flooring that you need, we will provide up to three quotations to choose from. Our goal is to deliver the best products with quotes that will truly match your needs and budget.
Simply get in touch with us to request free wood flooring quotations Singapore.
HDB Registered Contractor
License Number: HB-09-5474D