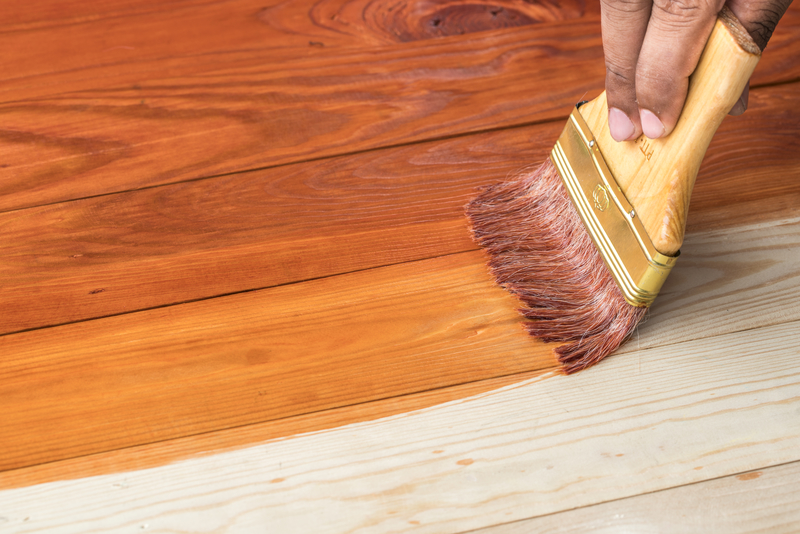 While there are numerous options for giving floors an improved look and longer lifespan, quite a number are not effective. Generally, most people are usually spoilt for choices between matt and glossy varnish. However, matt floor varnish is the best approach for taking proper care of wood floors. Matt floor varnish provides a distinctive finish that is not too shinny. In fact, matt floor varnish has continued to gain significant popularity over the years.
Unlike most types of varnishes for floors, matt is considered the most convenient and effective alternative for hardwood floor maintenance. The main reasons that have earned matt floor varnish greater popularity are because it offers a more lasting finish and appealing looks that several other varnishes cannot match. To clearly understand why it is always recommended to apply matt floor varnish, it is imperative that you look at its main benefits.
Advantages of Matt Floor Varnish
There is so much more that you can achieve from applying matt floor varnish to your wooden floors. Below are some of the key benefits of matt floor varnish that you should keep in mind.
Protection from quick wear
No matter how resilient your hardwood floors are or where they are installed at home, in the office or business, they are often exposed to a number of risks that can facilitate quick wear and tear. Matt floor varnish provides a protective layer that can effectively cushion the surfaces from damage by repetitive foot traffic, scratches, staining, spills and other imperfections. This could significantly enhance the lifespan of the floors.
Revives the appearance of hardwood floors
Although hardwood floors can properly resist damage from stains and marks, there are some stubborn substances that could easily cause harm. Besides, the floors can also change looks as a result of the effects of ageing. By applying matt floor varnish, you will be able to eliminate all the unwanted spots created by stains and foot traffic, thereby restoring the appeal of the flooring material.
Compared to glossy varnish, matt varnish is less shinny. However, it can still effectively restore the unique styles, colors and patterns of the flooring. This will ensure that your hardwood floors look as if they are new, which could also elevate the overall appeal of your spaces. Unlike gloss varnish that usually takes time to produce the desired results, matt varnish offers spontaneous results.
Guidelines for Applying Matt Floor Varnish
The application of matt floor varnish is similar to that of glossy varnish. But, they each produce unique results. If you have decided to go with matt floor varnish, it is important that you are enlightened on the best recommendations for performing the task. Before you go ahead to apply matt floor varnish onto your hardwood floors, be sure to read the following guidelines for success.
Today, there are various kinds of matt floor varnishes offered in the market that you can select to protect and enhance the appeal of wood floors. However, you should never just pick and use any matt varnish just because you saw it advertised online or someone said it works. Using the wrong matt varnish on your floors could not only hinder you from getting the best results but, also cause significant harm to the flooring. In fact, there are some harsh matt varnishes that damage hardwoods, leaving you with huge losses.
To avoid the risks, it is advisable to consult with the supplier of the flooring on the right matt varnish for the floors. Generally, most manufacturers today include such information in the packaging of their products. In case yours does not have the information, engage a floor maintenance professional for help in choosing the right matt floor varnish. On the other hand, you can also simply hire the expert to perform the application procedure on your behalf. This can always enable you avoid any risks that would have ended up causing damage.
For smaller spaces, you can apply the matt varnish on your own, provided you have the correct products and equipment for the procedure. However, larger projects should always be left to professionals for convenience and the best results.
Get the Best Quotes for Matt Floor Varnish Singapore
Flooring Singapore works in partnership with leading floor maintenance companies to deliver reliable services. Contact us for the best matt floor varnish quotes Singapore.
HDB Registered Contractor
License Number: HB-09-5474D