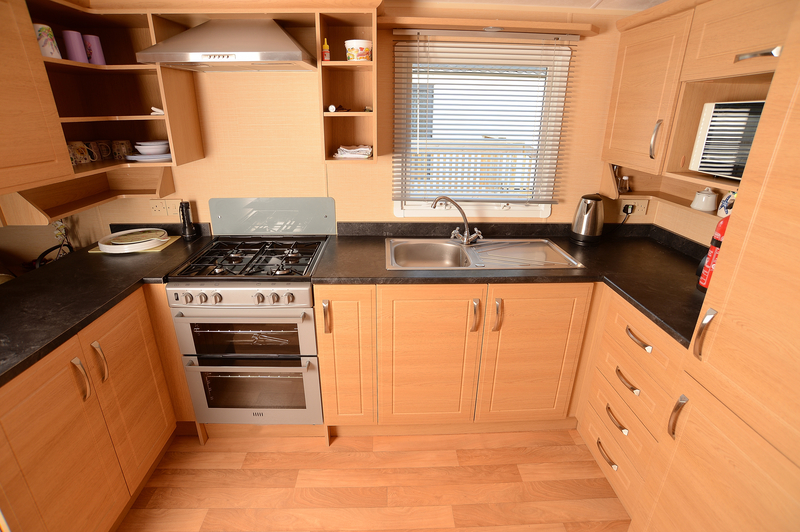 Vinyl flooring are among the best types of flooring that most people today go for when constructing new floors or refurbishing existing ones. While this type of flooring can be installed in a wide range of areas in the home, the kitchen is one of the most preferable areas to use it. Available in a choice of sheets, planks and tiles, vinyl kitchen flooring offers you innumerable options on how to design your space.
Although the kitchen does not usually experience a lot of foot traffic, it is an important part of the home that should be kept in pristine condition. And, vinyl kitchen flooring is one of the best ways you can achieve this. The flooring is water resistant and, also comes in a wide range of designs options, thereby ensuring that your kitchen remains tidy, hygienic and looking suave throughout.
Compared to most flooring alternatives in the market, vinyl kitchen flooring is low maintenance and very easy to clean. This will enable you maintain proper sanitation in and around the cooking areas without a lot of stress. On the other hand, vinyl kitchen flooring is also a less expensive type of flooring that you can always acquire and install without leaving a hole in the pocket.
Outstanding Qualities of Vinyl Kitchen Flooring
Long lasting and safe
Vinyl is a compound manufactured by joining several layers of PVC and other renewable materials. The flooring can effectively withstand the impacts of frequent foot traffic and even heavy furniture for quite a long time without showing any signs of damage. Besides the multiple layers included in each piece, vinyl kitchen flooring is also enhanced with a protective layer to cushion the surface from scratches.
Although vinyl is an artificial material, it is manufactured with greater emphasis on lesser emissions, ensuring greater environmental safety. Since the materials used are recyclable, vinyl is always safe for use in all kinds of living spaces. For added safety, the flooring is also equipped with slip-resistant features.
Easy to clean and maintain
The kitchen is an area where food is prepared and kept, which means cleanliness is always a priority. By installing vinyl kitchen flooring, you will always have an easier time in cleaning. In fact, basic cleaning procedures like, sweeping and mopping are enough to keep the flooring in proper condition. Vinyl is also a germ and stain-free material, which ensures your kitchen floors remain spotless and bright all through.
In case the flooring accumulates tough stains, simple stripping and polishing will effectively revive their shine. Depending on the types of stains and extent of impact, you can either do the procedures or contact an expert for help. However, the best move is to simply hire professional vinyl flooring maintenance services. Overall, vinyl kitchen flooring usually requires very little care.
Water resistant
In kitchens where water is always flowing, you need a flooring option that can ensure your kitchen does not stay damp. Flooring materials that are susceptible to moisture are always a great risk since they can easily accumulate germs, mildew and bacteria that cause infections and structural damage. Considering vinyl is water resistant, it is the best flooring alternative for the kitchen.
Diverse design options
Another advantage of using vinyl kitchen flooring is their robust designs. The flooring is available in numerous styles, patterns and colours that you can easily select based on the decor of your kitchen or the particular impression that you need therein. In fact, there are vinyl kitchen flooring designs that mimic other types of flooring like, ceramics, hardwood and even stone.
Vinyl kitchen flooring is also offered in varying textures that range from non-slip to smooth. Besides the unique patterns, colours and styles of vinyl kitchen flooring, you can still cut the pieces into various dimensions for creating custom designs. Regardless of the kind of appeal that you need for the kitchen, vinyl flooring provides unlimited options to help you achieve the perfect decor.
Due to the easy installation of vinyl flooring, you can always play around with different sizes, colours and styles to bring a twist of elegance and comfort to your kitchen floors.
Get Free Quotes for Vinyl Kitchen Flooring Singapore
At Flooring Singapore, we work hand in hand with major vinyl flooring suppliers in Singapore to ensure you always get the best. Contact us to for free vinyl kitchen flooring quotes Singapore.
HDB Registered Contractor
License Number: HB-09-5474D