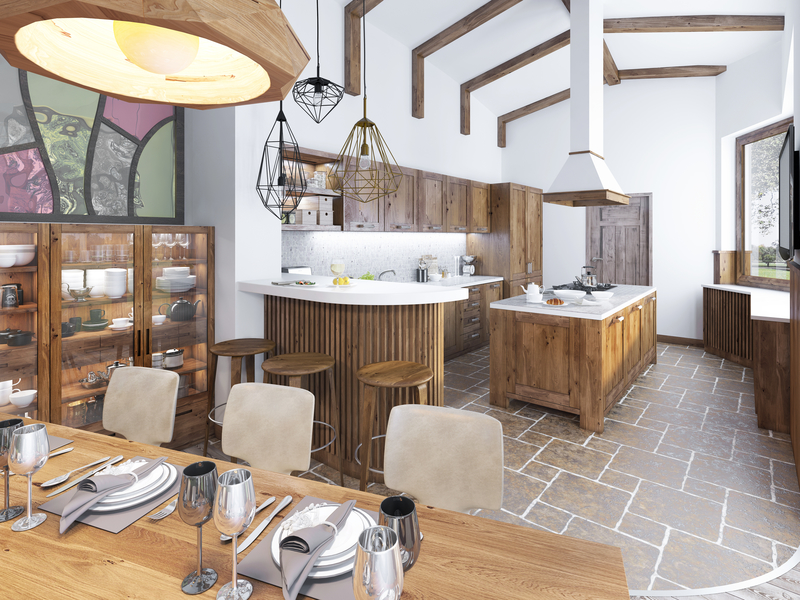 The kitchen is one of the most important parts of the home, where you prepare and store your food supplies as well as cooking items. Therefore, the way the space is set up has so much to do with the health of the people living therein and also the overall appeal of the home. One of the easiest ways to enhancing the proper hygiene, elegance and functionality of the kitchen is through installing kitchen floor tiles.
Having quality kitchen floor tiles in your home can always go a long way in giving the entire living environment a unique twist of beauty and luxury while also ensuring an easier time in cleaning. In terms of décor, kitchen floor tiles will offer you a wide range of options on how to bring out the desired theme and feel therein. This is because; the tiles come in diverse style and color options to choose from.
Kitchen floor tiles are recommended for both new and refurbished kitchens. Besides the durability, style and color variety, kitchen floor tiles are also offered in numerous dimensions. On the other hand, kitchen floor tiles can also be obtained in either ceramic, stone or porcelain, which enables you to always get just the right fit for your space.
Kitchen Floor Tiles
Resilient
The durability of kitchen floor tiles is among the key reasons many people today go for them when remodeling their kitchens. Stone and ceramic kitchen tiles are developed from clay that is fired under very high temperatures, resulting into a tough tile sure to last for many years. If installed correctly, kitchen floor tiles can last more than ten years even under constant pressure from foot traffic.
Porcelain kitchen floor tiles are even much harder than stone and ceramic since they have an additional ingredient of sand in the mixture. This enables porcelain kitchen floor tiles to effectively retain their form and appearance much longer. Besides, the surfaces of the tiles are enhanced with a scratch proof coating that can also effectively withstand staining. Another reason to trust the resilience of kitchen floor tiles is because tiles do not burn.
Even if you place a hot pan on glazed kitchen floor tiles, they hardly experience any defects.
Numerous styles and colors
With kitchen floor tiles, you have unlimited alternatives on how to design and decorate your cooking areas. The tiles are offered in numerous styles, enhanced with exquisite designs to choose from based on the kind of theme or feel that you intend to create in your kitchen. In fact, you can even find kitchen floor tiles in designs that mimic the appearance of natural stones, hardwoods among other luxurious materials.
With regards to colors, kitchen floor tiles come in varying shades of dark, neutral and light colors. To create harmony in the décor of the entire home, you can opt for kitchen floor tiles in colors that complement the other furnishings therein. Besides, you can also opt for contrasting shades to give the kitchen a different kind of appeal from the other sections of the home.
Considering the tiles also come in different sizes, you can always choose how to arrange them to create unique designs in your kitchen. The fact that the tiles are also offered in optional sizes ensures you can always get the best fit for areas with both regular and irregular measurements. Due to the stylish twist of kitchen floor tiles, they can also be used on the walls as finishes.
Easy to clean and maintain
Another benefit of kitchen floor tiles is their easy cleaning and maintenance. Unlike most flooring options that require special cleaning techniques and products, taking care of kitchen floor tiles is quite simple. With regular sweeping and mopping or dusting, you will be able to keep your kitchen floors clean and looking great over time. To eliminate germs, you may want to mop the floors with home disinfectants.
Due to the protective coating on the surface of the tiles, they do not attract stains, which will also give you an easier time in maintaining them.
Get the Best Quotes for Kitchen Floor Tiles Singapore
At Flooring Singapore, we work in partnership with leading kitchen floor tiles suppliers to always deliver quality tiles at your convenience. Get in touch with us to easily acquire the best quotes for kitchen floor tiles Singapore.
HDB Registered Contractor
License Number: HB-09-5474D