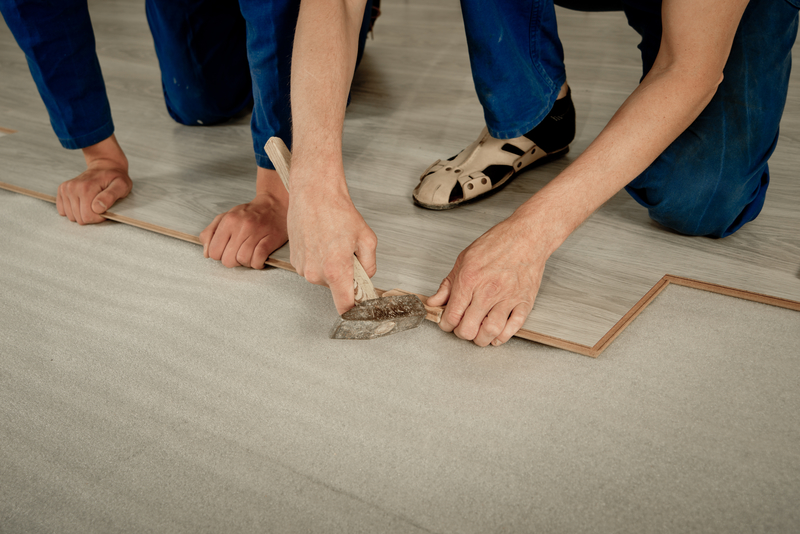 Laminated flooring is among the few flooring alternatives that have continued to grace many residential and commercial spaces over the years. Laminated flooring is a synthetic flooring alternative whereby planks, tiles and laminates of the desired materials are erected on top of a hard floor. Compared to other types of laminate flooring, this option provides a distinctive aesthetic finish that effortlessly transforms the personality of every room.
When looking to create exquisite floors with practical benefits then, laminate flooring is always a good choice. While it also has certain shortcomings, laminated flooring is one of the most pocket friendly and elegant flooring solutions for both homes and commercial spaces. To enable you create a unique sense of beauty in every space, laminated flooring is available in numerous designs and dimensions too.
The merits of laminated flooring are mind blowing and, you will truly be amazed at how much you can achieve whenever you install it in your home, office or business space. In case you are considering re-sale for your property, installing laminated flooring can easily add some weight to the overall value, thereby enabling you to get a better price for it.
Reasons Why Many People are Opting for Laminated Flooring
Durability
Resilience is one of the main aspects of laminated flooring that give it an edge in the market. The flooring is engineered with a tough core-board that has the ability to effectively withstand the pressures of frequent movements. Besides, they also have protective top coating to shield the surfaces of the floors from scratches, impacts and staining.
Even if exposed to sunlight, laminated flooring will hardly fade and change form. Since the materials used in making laminated flooring are tough and water resistant, the floors are never subjected to wear resulting from moisture or insects. As a result of this, installing them can guarantee exquisite and long lasting floors.
Variety of attractive styles
Laminated flooring is also loved by many because of its versatility. The flooring comes in numerous optional styles, patterns, textures and tones that you can easily select based on the decor of your spaces or the kind of appeal that you intend to portray. Laminated flooring comes in varying hardwood designs, natural stone effects, ceramic tile details and others.
In fact, you can opt for designs that emulate just any material you want. Whether you need a simplistic, extravagant or abstract style, laminated flooring offers diverse options to help you achieve the desired decor. Considering the variety of laminated flooring styles, you can either pair them with other flooring options or use them just as they are without interfering with the overall appearance of the space. You can choose styles that complement your interior decor.
Lower maintenance
Whenever you install laminated flooring, you will also never be subjected to strenuous cleaning and costly maintenance procedures. Taking care of laminated flooring is always very easy. The cleaning process mainly entails sweeping, dusting, vacuuming and wiping with a wet cloth. Due to the stain resistant protective layer on the surfaces, the cleaning and maintenance of laminated flooring is always a walk in the park!
Affordability
While laminated flooring is engineered for lasting strength, elegance and lower maintenance, it is one of the most cost effective flooring alternatives in the market. The materials used in the production of laminated flooring are mainly wood and other recyclable components, which are among the key reasons they are quite affordable.
With laminated flooring, you can easily emulate the realistic looks of compact wood and even natural stones at less than half price. Due to its durability and lower maintenance, installing laminated flooring in your home, office or commercial space can help with cutting down the costs of floor repairs and maintenance.
Easy installation
In case you are wondering how much it could cost to install laminated flooring then, you have even more reasons to smile. The flooring has groove-live locking systems that enable different pieces to easily be fitted together without adhesives or nails. Laminated flooring can be easily laid on top of existing floors made from concrete, wood, vinyl or even plywood. To a DIY enthusiast, the installation is a procedure that you can easily perform independently.
Request a Free Quote for Laminated Flooring Singapore
To easily obtain the best quotations for laminated flooring Singapore, simply get in touch with Flooring Singapore.
HDB Registered Contractor
License Number: HB-09-5474D