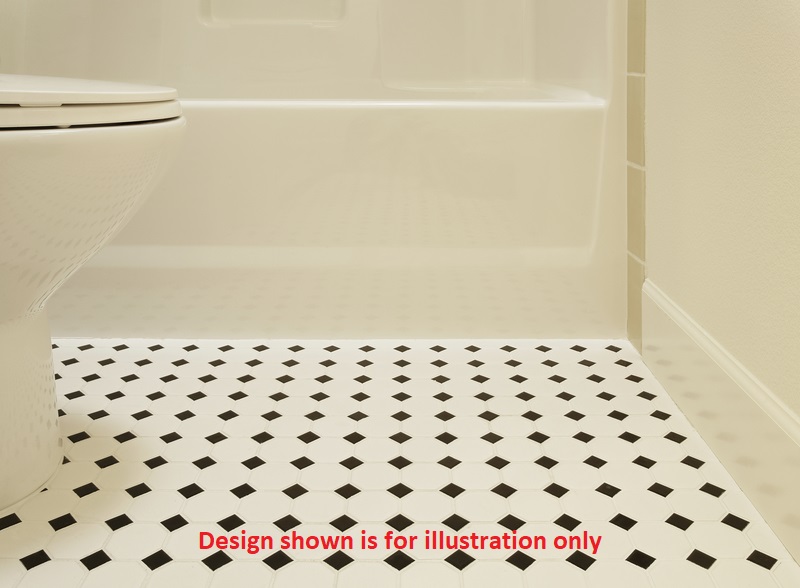 Bathroom vinyl flooring is among the best options for adding value to the bathrooms in your home or commercial space. Vinyl has continued to dress up floors in a wide range of residential and business spaces over the years, mainly because of its versatility, resilience and beauty. Whether you are remodelling or updating your bathrooms, vinyl flooring is always a great choice to consider.
While flooring is usually very costly, vinyl offers a more pocket-friendly alternative with outstanding looks that will no doubt give your bathroom an edge. Bathroom vinyl flooring will enable you to effortlessly create a cosy and functional space that your family, guests and customers will truly love. In fact, vinyl flooring is one of the most suitable options for creating luxurious bathrooms with a classic feel.
Bathroom vinyl flooring is available in a huge selection of unique patterns, styles and colours, which also includes replicas of high end stones and wood flooring. Besides, vinyl flooring is also quite durable and, can last for very many years if correctly installed and properly maintained. However, these are not the only reasons why bathroom vinyl flooring attracts many.
Reasons to Choose Bathroom Vinyl Flooring
Water resistant
Vinyl flooring is manufactured from layers of PVC compounds, which are pieced together to create a durable water resistant material. Each of the layers is carefully bound onto the other with protective cushioning against moisture, steam and humidity penetration. In areas like bathrooms where water usually flows continually, vinyl flooring is always a great way to keeping the areas dry and safe.
The fact that vinyl flooring is not penetrable by moisture also helps with preserving the integrity of the building by avoiding issues like, leaks. Besides, the water resistant property of vinyl also helps with preventing the growth of mold and mildew, thereby keeping the bathroom hygienic and safe for all users.
Easy to clean and maintain
The bathroom is an area that we go to relax, wash and energize our bodies. As such, cleanliness is always an integral aspect for making sure that all those who visit the bathroom get the desired treatment. To help you achieve this, vinyl flooring is very easy to clean and maintain. Basic procedures like, occasional sweeping and mopping with the recommended products for cleaning vinyl will keep the bathroom floors free of dirt and germs.
Vinyl is also hardly stained, making it quite easier to clean and maintain. Since the cleaning and maintenance of bathroom vinyl flooring does not require any special products and equipment, installing them could also save you a lot of dollars. With proper cleaning and maintenance, vinyl flooring can keep your bathrooms in perfect condition for very many years to come.
Beautiful and soft
Today, vinyl flooring is offered in numerous patterns, styles and colours to choose from. The patterns, styles and colours emulate different kinds of materials including, stones, and hardwood among others. As a result of this, you can always select bathroom vinyl flooring based on the decor of your spaces or the particular look and feel that you desire therein. In case you have several bathrooms, you can even opt for a unique design for each.
Whether you need to extend the decor of the other sections of the home into the bathroom floors or remodel the existing one, vinyl offers you unlimited resources to easily get the best fit. Compared to floor tiles, vinyl is a good insulator with a warmer and softer feel that is very comfortable to stand on for a very long period of time. Besides, vinyl is made from renewable materials that are safe for use in both living and work spaces.
Resilient
By installing vinyl flooring in your bathroom, you will not be subjected to recurring repair and maintenance works. This is because of the outstanding resilience of this material. To protect the flooring from the impacts of common wear, the surfaces are carefully cushioned with a clear wear material. Although falling sharp objects can easily damage the flooring, scratches and frequent use are never a threat to the longevity of vinyl.
Request a Free Quote for Bathroom Vinyl Flooring Singapore
Getting the best bathroom vinyl flooring Singapore can be a challenge but, not if you rely on a professional. Talk to Flooring Singapore today for the right bathroom vinyl flooring quotes.
HDB Registered Contractor
License Number: HB-09-5474D