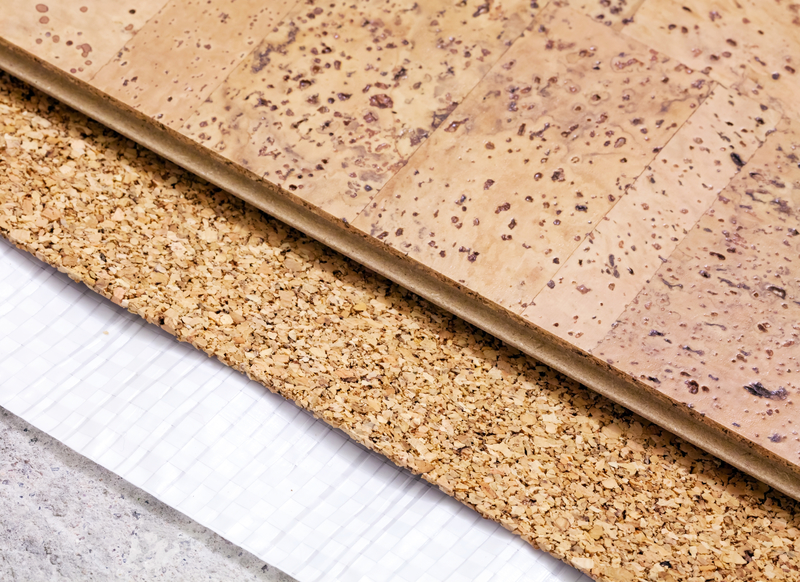 While cork flooring has been around for many years, not many people know about it. Cork is a natural and renewable material harvested from the bark of oak trees. The trees are mainly grown in Spain, Portugal and parts of Africa. Cork flooring has continued to serve a wide range of applications in both residential and commercial spaces mainly because of its sustainability, huge selection of styles and eco-friendliness.
More About Cork Flooring
Durable
While cork may not be as durable as hardwoods, it is quite resilient and sure to last for many years. The material has better resistance to cracks and abrasions, which enables it to maintain its appearance and stability over time. Besides, cork is also impermeable to gas and liquids. Even if heavy loads are placed over cork flooring; it easily bounces back, which makes it hard to experience indentions. If properly installed and taken care of, cork flooring can last for up to 40 years and beyond.
Healthy
Whether you are looking for a floor covering for your home, office or commercial space, you need something that will not have any impacts on the environment as well as health of people therein. And, cork flooring is always a perfect choice. The material is naturally resistant to mold and mildew, termites as well as allergens. Besides, it does not shed off microfibers or gas, hence, also ideal for improving the air quality in indoor environments.
Safe flooring option
Another reason that makes cork flooring quite safe is its resistance to fire. In fact, cork will only ignite under very high temperatures. Even then, it usually generates less smoke and toxic substances. The manufacturing of cork flooring generates almost no waste products. In fact, it is made from byproducts of cork stoppers, which are finely grounded and mixed with binders to create a thick and safe floor covering.
Enhanced comfort
With cork flooring, you will also be able to experience better comfort across all the spaces where it is installed. Cork flooring provides enhanced cushioning under the feet. Besides, the material is also a good thermal insulator, which helps with creating a sense of warmth in living and work spaces. On the other hand, it can also effectively absorb sound, ensuring greater comfort in every space where it is installed.
Besides just being used as surface flooring, cork flooring also works great as an underlay for laminate, ceramic tile and hardwood floors, where it helps with reducing noise.
Numerous styles and colors
Cork flooring is also an incredible option for expressing a unique touch of elegance in living and work spaces. The flooring is offered in myriad styles with distinctive patterns and rich shades that impact outstanding beauty in every space. The patterns imitate various wood grains and abstract styles that seamlessly blend in with different kinds of décor. The patterns and colors are deeply embedded into the material, which ensures they are maintained even as the material wears out.
Diverse dimensions and finishes
Cork flooring can also be obtained in either planks or tiles, which you can still use in various ways to create the desired design on your space. Install planks to create a seamless design. You can also use tiles with single or alternating colors to highlight different rooms in your home, office or business.
Cork flooring is mainly offered in two finishes; polyurethane or acrylic and water based. Acrylic based finishes are quite tough and resistant to scratches, giving your floors the best protection from various forms of damage. Water-based finishes are eco-friendly and, have better resistance to UV rays.
Get the Best Quotes for Cork Flooring Singapore
If you are looking to install cork flooring in your home, office or business, the best place to begin is obtaining a free quote. At Flooring Singapore, we work in partnership with leading suppliers of cork flooring to enable you get the best quality products with free quotes.
Regardless of the particular styles, colors, sizes or finishes of cork flooring that you need, we can always provide the best quotes at your convenience. Talk to us today to get the best cork flooring quotes Singapore.
HDB Registered Contractor
License Number: HB-09-5474D